Corporate Social Responsibility
Certified by ISO 9001
At OTC, we offer quality products and services that are needed by customers and society. For this reason, we are committed to improving customer satisfaction and quality in the organization with continued 411 technology innovation.
≫Integrated Policy (Environmental quality)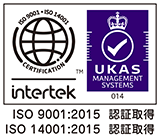 Certified by ISO 14001
Green procurement
OTC tries to provide environmentally-friendly materials for eco-friendly
Eco Office Certification
Accredited as a place to conduct business in promoting the reduction and recycling of waste from the area (Matsubushi City)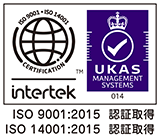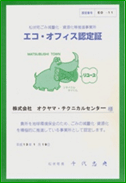 Compliance with laws and regulations.
To be the company that customers want. We aim to improve social trust by understanding and working with good feelings and respect the social .In addition to compliance with laws and regulations. We also take time to be a good leader as well
Safety and Health Management
With respect to Human. We are committed to create a safe workplace, reducing risks and preventing disasters through activities that raise awareness of safety, with the highest priority for workplace safety and employee health.

About personal information management
OTC recognizes the importance of the data used in screw manufacturing and defines privacy policies to ensure that they are properly and in compliance with the laws and other standards relating to the protection of personal information.
Access to minerals conflict
We are concerned that mined resources in the Democratic Republic of the Congo and neighboring countries serve as a source of funding for armed groups that cause human rights abuses, environmental degradation, etc. OTC has a policy not to use mineral-related conflicts as a raw material for achieving social assistance in procurement activities. If we see the use, we will continue to use it immediately.
Basic policy
In an emergency that has an impact on business, the OTC business will do its utmost to safeguard people's lives with a short recovery period. • We strive to continue and build a Helping system. Product sustainability and local community involvement. (Support for cooperation).

Disaster drill
As part of Business Continuity Planning (BCP), we conduct emergency drills every year to ensure a recovery. Training content: Migratory drills • Fire drills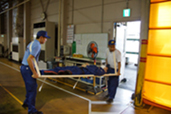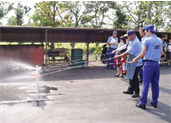 Sainokuni designated factory
Sainokuni factory is a factory where the Saitama prefectural governor had designated it that is superior in terms of technology and environment as a cooperator (a partner) for creating a rich and beautiful country.
・OTC allows factory tours of local elementary schools every year as part of "making factories loved by the community".
・ Responding to Factory Tours by Foreigners
I'd like to see a manufacturing factory and accept tours from foreigners.(Advance reservation system)Be sure to inquire in advance.
*Depending on the number of people, schedule, time, etc., you may not be able to accept.
OTC allows factory tours of local elementary schools every year as part of "making factories loved by the community".
AED installation and training
We have installed AED (Automatic External Decontamination Instrument) in preparation for unexpected circumstances of employees and general park users in the vicinity. Also, when an employee is present in an accident or disaster place, a lecture is held so that AED can be used.